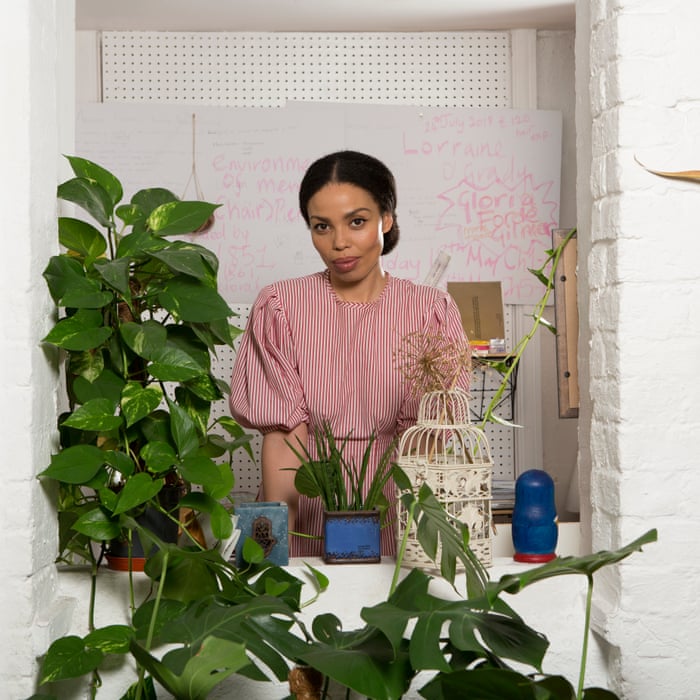 When Emma Dabiri was seven, instead of attending her first holy communion with her classmates, she created a "spiffy little anti-slavery pamphlet called Break the Chains" and presented it to her teachers. "As soon as you start reading black history, it's difficult not to become politicised," she says, sipping a coffee in the Hoxton Holborn hotel. "I started reading it very young. I experienced a lot of racism as a child, and reading about the global black struggle helped me contextualise what was happening to me."
Growing up in 1980s Dublin to a white Trinidadian-born Irish mother and black Irish-Nigerian father, it's no surprise that the social historian, broadcaster, former model and soon-to-be published author has interests that span pop culture, race, feminism and Yoruba folklore. Thanks to her presenting work on programmes such as Channel 4's Is Love Racist? and BBC Two's Back in Time for Brixton, she has become known for straddling the line between academia and accessibility.
Dabiri says she has been on this path for as long as she can remember, but her first significant step was leaving Ireland for a place at Soas University of London. She did a degree in African studies, followed by a master's in development. After a stint working in Ghana, Dabiri found herself back at Soas, teaching and working on a PhD. She started writing a blog, and in 2013 wrote a post for Media Diversified titled Who Stole All the Black Women from Britain? It's this piece that she cites as launching her into the public-facing world. Much like contemporary Afua Hirsch, Dabiri's voice has been a refreshing counterbalance in a country still struggling to acknowledge its racist past in a postcolonial world.
Her forthcoming book Don't Touch My Hair is written "first and foremost" for those with afro hair: Dabiri, whose hair is more coiled than loosely curled, says: "I think if I had the 'typical' [loose] hair that's associated with being mixed race, I would actually be a very different person." Situated wittily in Dabiri's own story, the book starts by tackling hair-texture discrimination, a phenomenon that goes hand in hand with colourism. Later chapters explore hair in relation to African mathematics, mapping and coding, and include fascinating stories of how slaves used braiding to communicate. The book, to be published in May, is likely to shift many stale conversations, and prove that black people's concerns around hair are anything but superficial. Charlie Brinkhurst-Cuff
Click here to read the full article.